Return
Corn Labyrinth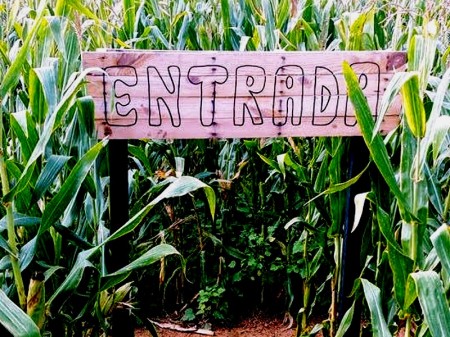 ref: 937
Location:
Lleida Noguera - Castellserà
THE NEW SEASON
"WALK THE LABYRINTH OF CORN"
Price: 5.00 euros / person
Includes: Tour of the corn maze.
Advance booking essential.
Book your tickets directly clicking on the "Reserve Now"
Iinformació: 973 400 265 - info@castellsdelleida.com
RECOMMENDED FOR EVERYONE
Open daily by appointment. ALSO GUEST NIGHT
Live the adventure:
The first corn maze in the province of Lleida.
The corn maze is a place of relaxation where a number of ways, some dead, some that do go back ... drawn between rows of corn that we can not see beyond ... we will be able to find out?
the labyrinth has an extension of up to three hectares, has more than 2 km of corridors.
TRADITION:
There is no tradition of corn mazes many hectares including the United States and countries like France have also experienced this recreational activity. La Masia Hope promotes since it began in 2006, visit the labyrinth.
This activity is framed within the activities promoted Castles of Lleida, based in Montsonís to boost inland regions and complementing other recreational and cultural activities (music concerts in castles, stays rural tasting wines ...).
WHAT TO BRING?
Footwear and comfortable clothing, a hat for sun protection and flashlight if you visit at night. It is also recommended to bring mobile (you never know ...)
Abstenir-se claustrofòbics.
OTHER CUSTOM OPTIONS:
ACTIVITY "TRAVEL AND LABYRINTH dinners"
Price: 19.00 euros / person
includes: Outdoor dining and entrance to the labyrinth of corn. Book here

"OUT OF SUMMER ... SPEND THE DAY WITH US"
Price: 23.80 euros / person
includes: Visit to the Castle Route of Lleida Castles: A Trip to the Past, dinner and entrance to the corn maze . Book here

"TRIP labyrinthine"
Price: 49.50 euros / person (based on two people)
includes: dinner and entrance to the maze of maize and sleep one night. Book here
Information and reservations: 973 400 265/973 40 20 45/973 610 387
DATES:
Season approx. Opening: juny/principis late July to late September / early October (depending on season).
GETTING THERE:
By car: From Tarrega and Balaguer.
By train: Renfe Balaguer and Tàrrega (19 km).
By bus: Regular Line Alsina Graells Tarrega and Balaguer (19 km).
The labyrinth is within Masia Hope a farm in the village of Castellserà (Urgell - Lleida).
We reserve the right to cancel the activity in case of adverse weather conditions or any serious circusmtància that does not allow the proper development of this.

Photos
Map