Return
Cycling through the valley of Bianya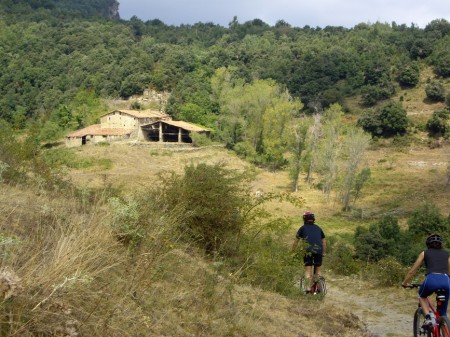 ref: 4667
10-50
Tipus:
Trek, Visitand Circuit
Location:
Girona Garrotxa - Sant Joan Fonts
Stay of 2 days with cycling
We offer a stay in the Valley Bianya including trips with bicycle with the guidance of Olympic medalist Carlos Torrent .
We have a wide range of routes to choose depending on the level of difficulty. This offer includes all expenses and a parallel programming activities for companions who will not let anyone get bored for a moment!
A full weekend for those who love cycling, and also for your companions!
Day 1:
MORNING:
Cyclists : Bike Check (pre-selected route according to group characteristics).
Companions : parallel activity according to the accompanying features.
AFTERNOON:
Route with the tourist train : You will visit different parts of the charming valley Bianya. Includes a stop for a tasting of local products.
Day 2:
MORNING :
Option 1 : Trip to the Roman for bikers and companions.
Option 2 : A route for bikers + Roman road for companions.
Lunch at the house and return to places of origin
Prices :
Adults : € 95
Children up to 8 years : 75 €.
Includes : lodging, and meals (2 lunches, 1 breakfast, 1 lunch and 1 dinner), guide, travel, activities. Groups from 10. Smaller groups, check rates without compromise.
Includes:
Guide, Transport, Accommodation, Breakfast, Lunch, Diner, Pique-nique,
Photos
Map